9 Best Pillows for Side Sleepers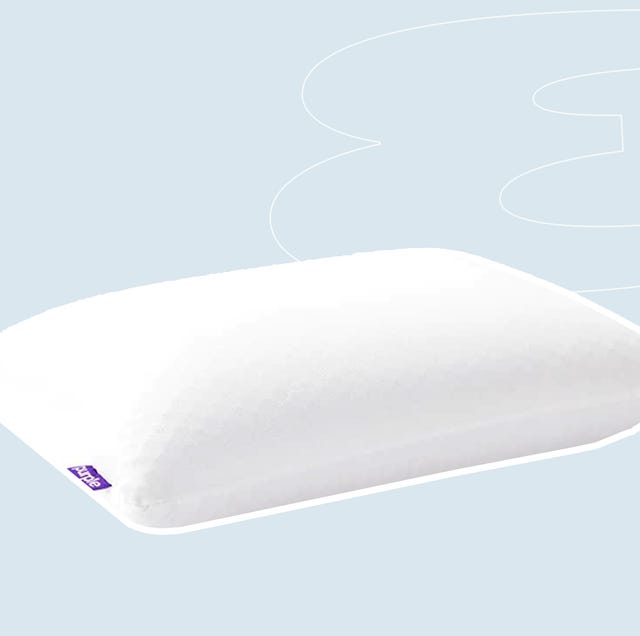 Courtesy
Side sleeping is the only sleeping position that matters. Yeah, we said it. Side sleeping is comfortable, obviously, but it also lends itself to a bit of a precarious body placement. Spending seven or eight (or OK, five, but we're working on it) hours a night in a single position on one side of your body can add up over time, and lead to neck and back pain.
Hopefully you're coming here having already accepted the fact that you, yes, now get hurt sleeping. But sleep should the best part of the day, and if you're feeling achy and cracky when getting out of bed, that's not right. And, that's where we come in.
Getting a high-quality mattress is definitely a start and a wise choice for good sleep longevity. But, the mattress isn't the only thing that decides how your sleep will go. You also want to be in a supported position that puts minimal strain on your muscles and tendons. Side sleepers are particularly prone to sleep pain because of how gravity pulls the neck down over time. Best to kick that tin man-feeling to the curb, and it starts with a pillow that gets you in the best position possible. Start with nine of the best pillows for side sleepers here.
Advertisement – Continue Reading Below
Best for Side Sleepers with Cranky Shoulders
Side Sleeper Pillow
I bought this pillow in a panic during the pandemic, because I woke up every morning feeling like I was tearing my shoulder out of its socket. This smart little crevice leaves room for my shoulder to get the space she needs without sacrificing support elsewhere. I've tried a few other pillows since, but this one takes the cake.
Best for Shorter Side Sleepers
The Harmony Pillow
Purple's signature Hex grid gel support is a great, supportive option for people who don't like memory foam or tend to sweat through other materials. This one looks a little higher than it really is and is best for people who don't have a whole lot of difference in neck and head placement when they roll to the side.
Best Thick AF Pillow for Side Sleepers
Down Side Sleeper Pillow
On the opposite end, this Parachute pillow is dramatically large and great for anyone who is constantly layering two pillows on top of each other to get the right support.
Best Neck Support for Side Sleepers
TEMPUR-Neck Pillow
This Tempurpedic pillow is a classic with its supportive memory foam and strategic support for your cervical spine.
Best Pillow for Tall Side Sleepers
Pillow Cube Side Sleeper Pro
Cube pillows are a great option for side sleepers because they actually hold your neck in a place that keeps your spine in proper alignment. This thick one (there are other sizes, too) is great for tall people.
Best Pillow for (Temperature) Hot Side Sleepers
Sleep Snow Foam Pillow
If you are a hot sleeper, the materials you're sleeping with are key. This Casper pillow is made of a foam with small holes to let the air keep a steady flow through the night.
Best Oddly Shaped Pillow for Side Sleepers
Body Pillow
If you start looking around for good pillows for side sleepers, you're going to find a whole bunch of unconventionally shaped pillows, some better than others. This is great for people who tend to sleep with a pillow under them and holding one. This keeps your arm and shoulder elevated so you're not being pulled out of alignment over night.
The Most Extra Pillow for Side Sleepers
MedCline Relief System
OK, yes, this pillow is a lot. It's basically a whole contraption. But for people who are really struggling with getting comfortable while they sleep—or that side sleep position is compounded by an injury or another health ailment—this mutli-pillow set up is the most ergonomic side sleep position you can get in.
Best Support Pillow for Side Sleepers
Knee Pillow
Perhaps your neck feels fine but you're starting to feel tight in your back after you sleep. This pillow is designed to fit in between your knees so they align with your hips and your back. No uncomfy twisting again.
This content is created and maintained by a third party, and imported onto this page to help users provide their email addresses. You may be able to find more information about this and similar content at piano.io
Advertisement – Continue Reading Below