8 Must-Haves for a Well-Stocked Bar Cart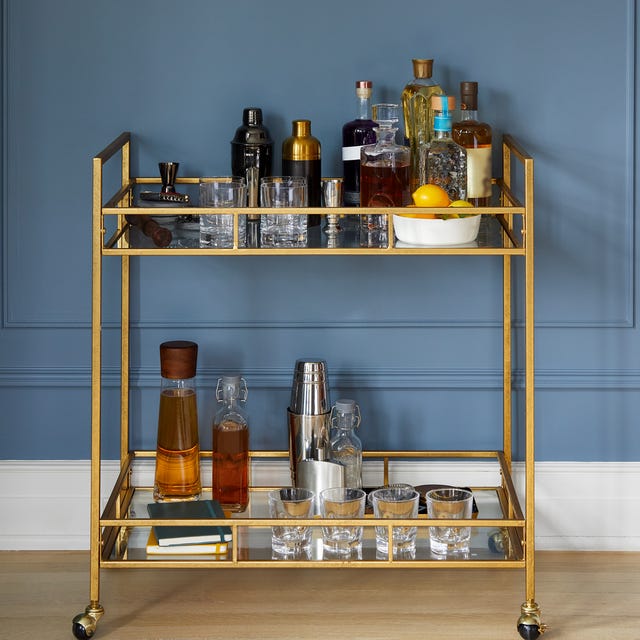 Of all the decor choices that scream, "I've made it," few are more fun than the bar cart. Putting a full array of liquors on display proves that you're able to keep more than just a six-pack and a bottle of the cheapest vodka on hand, and that you've moved past stashing them on top of your dusty kitchen cabinets.
A cart on wheels, like this sleek glass-and-gold leaf number, lends an air of elegance to your space and allows you to bring the party right to your guests when you're entertaining. Plus, it's got plenty of shelving, which means you can use it to store not just the hard stuff, but also other essentials like cocktail shakers, rocks glasses, and bitters. In other words, it's also time to retire that set of shot glasses that got you through your early twenties and elevate your barware collection.
And we've got just the right mix, all of which you can order online—neat—from The Home Depot.
Advertisement – Continue Reading Below
1
Alchemade
Black and Brass Cocktail Shaker
2
JoyJolt
Art Deco Glass Whiskey Decanter with Stopper
3
Badash Crystal
Park Avenue 4-Piece Rocks Set
4
Visol
Thierry Stainless Steel Corkscrew, 2 Pack
5
Home Basics
Zinc Nova Peeler
6
True True
7 Piece Bar Tool Set
7
Villeroy & Boch
Artesano 37 oz. Bowl
8
Jodhpuri
Grey Marble Round Coasters (4-Piece Set)
Advertisement – Continue Reading Below