8 Best Dyson Vacuums, Tested by Esquire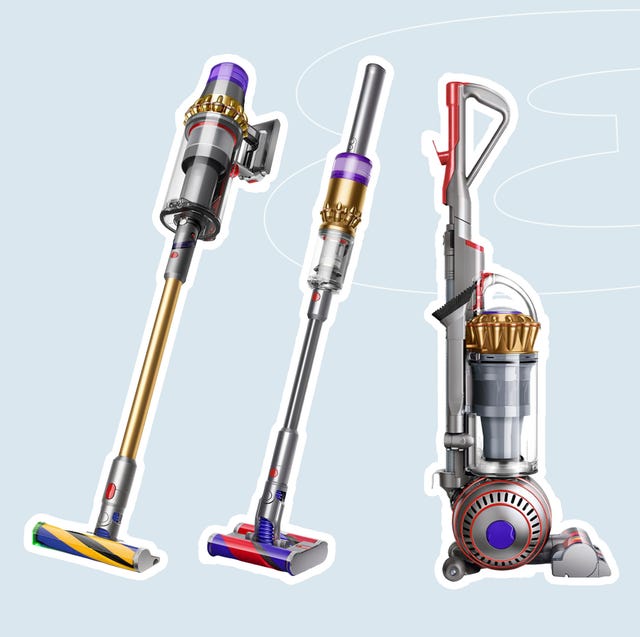 Courtesy
I know a few people who would trade in their first born for a top-rated Dyson vacuum. If you own one, you love it—and you tell everyone you love it. If you don't own one, you probably look at their site and wonder what the fuck it all means.
The brand offers a handful of vacuums with confusing names at a wide range of price points, and the specs all vary. Some have lasers, some don't. Some are always on sale, some are never on sale. So which one do you actually buy? Well I've tested them all and as result, it's one of the most asked questions I field as a self-proclaimed home expert. Because I can't scream about it in a bar anymore, I will now be forwarding this link to all prospective Dyson buyers. I'm sad to report the answer isn't as simple as this or that, but more of a question for yourself and your home's needs.
How Dyson Makes Vacuums
Before I break down the specs, I have to address the obvious elephant in the room, these vacuums are known for being expensive. But they are not overpriced, there's a difference. In years of testing products, I can tell you that in this case, you get what you pay for. Dyson employs a team of scientists that study everything from the difference between fur follicles from your constantly-shedding golden retriever to your not-so-nice cat, and your own human hair tangled into your rugs, and how to suction up each precisely and effectively. Aside from the (gross) topic of hair, they've thoroughly vetted how to clean up dirt vs dust all while trapping allergens for decades.
Of course when you're vacuuming dirt off your floor, you could care less about the science behind it, but you should, because home purchases are real investments. At the end of the day, you have to ask yourself the question, "how many times do you want to begrudgingly buy a new vacuum?" Because these are made to last longer than your average run-of-the-mill Amazon bestseller. They look sleek, move easily, go the distance, and store like a dream, solving most traditional vacuum cleaners' biggest hangups.
What Dyson Should You Buy
Are you a true techie who wants the most advanced laser-enhanced one? Are you a traditional cleaner who wants an upright model that plugs into the wall (weird, but sure, you still exist)? Or do you want the cheapest Dyson cordless vacuum that will just do the job? They provide all of the above, and here's how they differentiate in their own unique ways.
Advertisement – Continue Reading Below
Best Dyson For Large Homes
Dyson Outsize Absolute Vacuum
If you've been steering clear of wireless upright models because you have a larger home and you're afraid the chamber isn't big enough for all of your dirt or the run time isn't long enough, you've met your match. While the Outsize Absolute is the brand's most expensive model and a real splurge, the hefty price tag gives everything you worried it lacked. It features Dyson's most enhanced technology, which includes—get comfortable—a laser that reveals microscopic dust on hard floors, updated hair de-tangling technology that won't clog your cleaner head, 120 minute run time, and best of all, a bigger bin. The new 0.5 gallon bin is 150% larger than the V15 detect, so you can clean your whole house (maybe even a few times), without having to empty it right away. If you want to go all out, this is the one.
The Newest Dyson Vacuum
Dyson V15 Detect Vacuum
Most technologically advanced
The V15 is the vacuum that I'm currently using. It's the most advanced and newest model, featuring all the specs from the aforementioned Outsize model, with just a smaller waste bin. I switched to using this from the Omni glide (keep reading for more deets on that), and it was a big power upgrade. Made with the most powerful suction of any cordless vacuum on the market (a 125,000rpm motor to be exact), it doesn't stop there. It has the technology to adapt suction on its own by automatically detecting if it's hard floor or carpet. And yes, this model has the cool new laser. Lastly, its smart LCD screen digitally displays you how much run time you have left and what rate it's suctioning at. These are all features I never knew I needed, but honestly feel kind of addicted to now.
The Most Lightweight Dyson Vacuum
Dyson V12 Detect Slim Absolute
Small chamber holds less debris
You know Dyson will do a good job no matter the model, but if you're in it to save space, the V12 is the brand's slimmest and lightest cordless vacuum for both carpet and hard floors. To get technical, it weighs 5.2 pounds, which is 24% lighter than the V15 that comes in at 6.8 pounds. While it might not seem like a lot, the size comparison is bigger IRL, making it easier to store and even scoot around the house. I won't waste your time listing all the same specs again, but this model includes the new laser, de-tangling head, and LCD screen. My personal favorite feature that makes it different is that it has a simple on and off button. The larger models have a hold-down-with-your-finger trigger, meaning you have to hold it down the entire time you vacuum. This seems like a weird way to go, since you would think the larger models should have this "on/off " feature since you technically use it longer. Anyways, this small V12 is sleek, effective, and you simply just press on.
The Most Bang For Your Buck
Dyson Cyclone V10 Absolute Vacuum
Great power for a more affordable price
Referring back to my original statement that Dyson's technology is made to last, the V10 is the prime example of this. Released in 2018, it was so ahead of its time, it's still considered one of the best on the market four years later, which is ancient in tech years. If you aren't worried about having the latest specs of the laser and LCD screen, then the lower price point here is a great way to start. Even without the newest bells and whistles, it's the power that speaks for itself, and a 60 minute run time that still makes it a winner. The original model is still available and there's also a choice made for pet-owners that was specifically engineered to clean up fur in an effective way that won't ruin your vacuum.
The Cheapest Dyson Vacuum
Dyson V8 Absolute $399.99
The V8 is the oldest model still on the market, and it's the most affordable. Don't you hate how it works like that? Released in 2016, this was the one you probably heard your Dyson-loving friends rave about at the time when it meant you were seriously cool to own one. Since the time when the world was a happier place, Dyson has given its products some much needed upgrades. And for me, the hangup on this model is that the chamber is from its old design that isn't as easy or seamless to clean out as the newer models. Plus, the suction is less than impressive, and probably comparable to a $200 model you can buy on Amazon right now. While yes it comes in under just under $400, if that's the price you really want to hit, then ok, do it. But for $150 more, you can get the V10 model, which I've already told you is the best buy from the brand.
The Best Dyson For Hard Floors
Dyson Omni-Glide Vacuum
Cleans hard floors amazing
The omni-glide is another favorite of mine, but I have to flag, is also a unique purchase. Made for only hard floors, its smaller and lighter design features two smooth brush heads, and it truly glides like a dream, fitting to its name. Because I only have hardwood floors and tile in my apartment, I admit I'm a little obsessed with how cute (sorry, can't think of a better word), effective, and fun it is to use. It almost feels like a toy, but it actually gets the job done. The small size makes it easy to tuck away and grab anytime of the day for a quick cleanup. While I do love it, I'm also a cheater who just really needs that big powerful model too. Where this really lacks is in cleaning my rugs. Sure, I could run it over the top, but it barely sucks up anything. I would recommend this to someone who is looking for a second vacuum that specifically works great for hardwood floors. Or even someone who lives in a small studio apartment and has minimal cleanup.
The Best Vacuum For Pet-Owners
Dyson Ball Animal 3 Complete
Engineered to pick up pet hair
So you have a lot of pet hair in your home? Then I'm sorry to tell you, the best one is an upright model. Engineered with a specific Motorbar head, it was made to suction up even the most fine hair, which fun fact, is cat fur, which is much thinner and harder to suck up than any other type of pet or human hair. What makes this upright model really stick out is its filtration system, that comes into play with pets and allergens. The motor also has a filter that sucks up 99.97% of particles as tiny as 0.3 microns—if you want to google that, go for it, but it basically means small bacteria or particles—holds it in the washable filter, and then only dispenses clean air. Who knew an upright model could be so impressive? Plus, it even comes with a pet grooming tool, that yes, you can brush, groom, and vacuum your pet with. SOLD. If you really despise upright models, then opt for the cordless V10 in the animal version, it has the pet-hair technology, but is slightly less effective than this powerhouse model.
The Best Hybrid Vacuum
The Dyson Big Ball Multi Floor Vacuum
Powerful for hard to reach places
While I've tested this one briefly in the showroom, I never had it in my home, and in my honest opinion, I'm not sure why I would. This model is what I would describe as "unique to one's own personal needs." Its turbine cleaner head has stiffer nylon bristles that can break down even stuck-down dirt, more fit for work places or industrial spaces. The spin shaft has a 360 degree turn radius, making it easier to get to weird places, like the stairs. So if you want the suction of a straight up vacuum, but extra flexibility for a car seat or a corner space, sure, go with this one.
This content is created and maintained by a third party, and imported onto this page to help users provide their email addresses. You may be able to find more information about this and similar content at piano.io
Advertisement – Continue Reading Below