6 Best Smokeless Fire Pits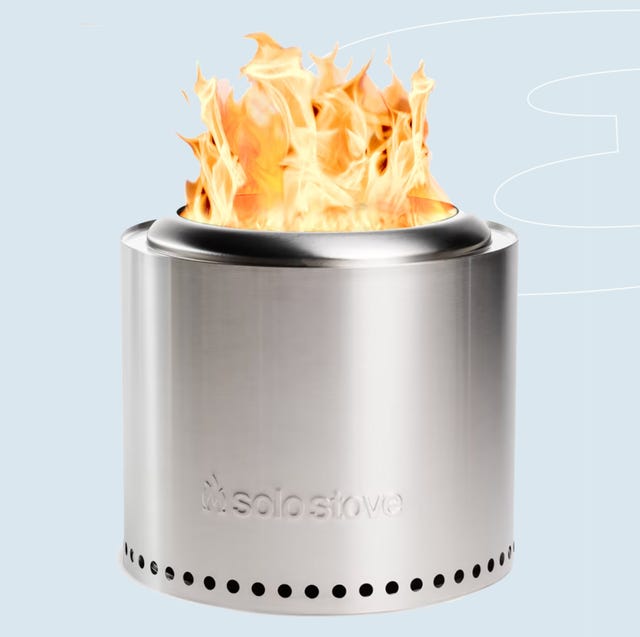 Courtesy
On our list of things to do this summer: sit outside, hang by the fire, not smell like bacon for three days after. Outdoor fire pits are one of the best things you can have access to in your backyard, on someone's cool patio, somewhere near a body of water. Fire pits are cozy, given that you can actually enjoy being cozy and don't feel stressed out or overwhelmed by unruly embers and smoky winds. Instead, smokeless fire pits are where it's at.
Now, I want to be upfront with you, these aren't really smokeless per se. It's not like they use some of alternative wood that randomly doesn't smoke. Instead, they are built with filtration systems that minimize the output of smoke before it gets right into your face. It's not a perfect system—there is still going to be some smoke—but it's a far cry from a DIY campfire.
Depending on where you want to use the fire pit, there are smaller, lightweight ones that are great for storing in a garage or shed until use. There are bigger, heftier ones, too, that make a big outdoor space feel inviting. To choose the right one for you, think about how many people will be sitting around it and if it stays in one place or gets stored away. Also think about s'mores and very good playlists, both of which are essential if you are to spend lots of time sitting by the fire.
Advertisement – Continue Reading Below
1
Ranger Fire Pit and Stand
The Solo Stove has been a popular choice on the Internet thanks to its small, movable frame and its lightweight design. The stainless-steel design weighs an easy 15 pounds and comes with a stand for lifting off heat-sensitive surfaces. The intense airflow works to minimize the smoke that gets out into the air.
Fire pits are a whole aesthetic unto themselves and they will instantly elevate any sort of cozy outdoor space you put them in. This tiny tabletop one is smokeless, odorless, and lasts for 40 to 50 minutes before needing a refuel.
3
Smokeless Bonfire Fire Pit
If you want your fire pit to feel more like a bonfire than anything else, this Dragonfire pit is a great option. It's a bigger size—23.5″ in diameter—and does well on a patio or outdoor space where you can leave it. The double-walled construction filters out smoke and the spark screen protects you from anything that might fly out.
4
Ridge Portable Steel Fire Pit
This portable fire pit was made for tailgating with its easy to move— and easy to cook with—design. It burns using wood pellets or firewood and the burn chamber helps it to exert little smoke, sparks, or ash.
This 17-inch fire pit was meant to be in backyards everywhere. Burly uses its own airflow system to minimize smoke: The initial smoke is recirculated back into the fire and re-burned. Novel!
6
Cleanburn Smokeless Fire Pit
Cuisinart's fire pit also uses that minimized smoke two-wall design: the bottom vent pulls in oxygen and heats up the double wall. It comes in a few parts that make it easy to clean and move around as you need. There's a base and ash tray on the bottom, the pit itself, and a the metal lip on the top, which serves as a wind guard for extra smoke and spark protection.
This content is created and maintained by a third party, and imported onto this page to help users provide their email addresses. You may be able to find more information about this and similar content at piano.io
Advertisement – Continue Reading Below