43 Funny Holiday Gift Ideas for Him 2022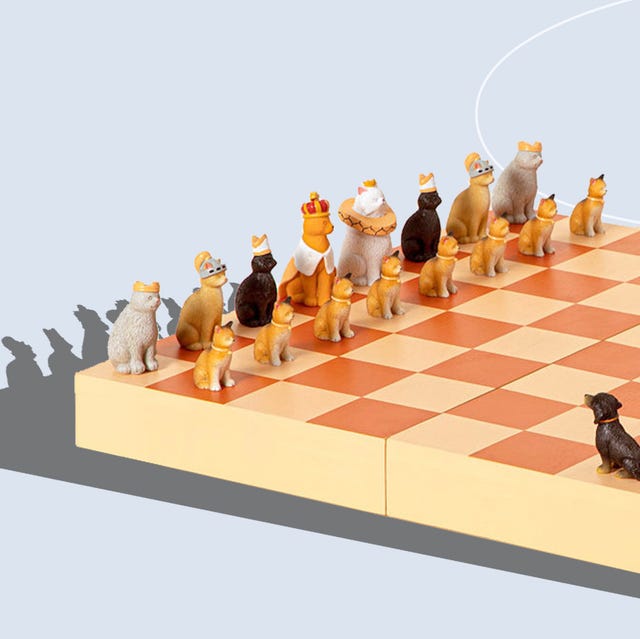 Courtesy
The holiday season brings both inevitable excitement and existential dread all at the same time. You can't wait to see your extended family…until your obnoxious brother-in-law's grouchy second cousin strolls through the door. But fear not, there is a way to get through the evening, a way that will bring joy to the entire room (even you, Mr. Grinch): a gag gift.
Bring on the full-body laughs, the ones that get passed around a group until someone has to excuse themselves to catch their breath and stave off the urge to piss their pants. That's a good laugh, and you can be the person who makes it happen. Doesn't matter who you're holiday gift shopping for—a coworker whose sense of humor you don't particularly like, a dear friend who's organizing a White Elephant exchange, the king of dad jokes himself (your dad).
Keep reading and you'll be sure to find the best, most hilarity-inducing gag gifts to cheer up all the grinches at the party this coming holiday season.
Advertisement – Continue Reading Below
Best Pointless Puzzling Gift
CM Originals
The Clearly Impossible Puzzle
Best Celebrity Book Gift
By Snoop Dogg
'From Crook to Cook'
Best Wiggly Gift
Urban Outfitters
Wacky Wavy Mini Tube Guy
Best Throwback Gift
Basic Fun
The Oregon Trail Handheld Game
Best Year-Long Gift
Sourcebooks
A F*cking 2023 Wall Calendar
Best Hanukkah Humor Gift
Mensch on a Bench
Mensch on a Bench
Best Blanket Gift
CASOFU
Burritos Blanket
Best Toilet Time Gift
Lerturdy
Toilet Game Mini Golf
Best Bootie Gift
Gulnara Kydyrmyshova
Taco Booties
Best Finance Bro Gift
joeRyanDesigns
Excel mug
Best Pet Rivalry Gift
Uncommon Goods
Dogs vs. Cats Chess Set
Best Klutzy Gift
World's Smallest
Jenga
Best Nerdy Gift
RxGrins
Knowitall! Gift Box or Bottle
Best Porta Potty Gift
Funwares
Porta Potty Shot Glasses
Best Stoner Gift
Urban Outfitters
Weed Games Party Game Set
Best Facial Gift
Tooletries
Endswell Facial Iron
Best Starchy Gift
Potato Parcel
Potato Pal
Best It's-Not-What-It-Looks-Like Gift
Wine Condoms
Best Iconic Gag Gift
Uncommon Goods
Bluetooth Banana Phone
Best Practical Gift
Sudski
Shower Beer Holder
Best Lazy Gift
Allison DeVane
Minute Cocktail Sugar Cube Trio
Best Hydrating Gift
Mountain Water 12-Pack
Best Funny T-shirt Gift
TeesAndTankYou
PureHell T-Shirt
Best Meaty Gift
Olympia Provisions
Salami Bouquet
Best Christmas Gift
RettaTees
Jingle Bell Rock Longsleeve
Best Frat Star Gift
UncommonGoods
Mini Beer Pong
Best Comedian Gift
By Seth Rogen
"Yearbook"
Best Crazy Cat Lover Gift
UncommonGoods
Laptop Cat Scratching Pad
Best Pseudo-Science Gift
Periodic Tableware
Beaker Wine Glass
Best Fishy Gift
Han shan
Unisex Fish Slippers
Best Subtle Gift
Alternative Imagination
Sunscreen Alcohol Flasks
Best Sticky Gift
Society6
Not Today Satan Sticker
Best Green Thumb Gift
MyUrbanCrafts
'I'm Not Dead, Yet' Planter
Best BBQ Gift
Stubb's
1 Gallon of Bar-B-Q Sauce
Best Bestselling Gift
By Trevor Noah
'Born a Crime: Stories from a South African Childhood'
Best Card Game Gift
Cards Against Humanity
Party Game
Best Boozy Breakfast Gift
UncommonGoods
Merlot Infused Coffee
Best Honest Gift
MaiseyDesign
'Fuck' Mug
Best Muscially-Inclined Gift
Kikkerland Design
Mini Karaoke Microphone
Best Disappointing Gift
Backpacker's Pantry
Backpacker's Pantry Astronaut Ice Cream Neapolitan Sandwich, 1 Serving
Best Jerky Gift
Righteous Felon
Spicy Beef Jerky Bundle
Best Lounging Gift
Eggplant Pool Float
Best Necessary Gift
Euphori-Lock
Advertisement – Continue Reading Below