30 Best Gifts for Skiers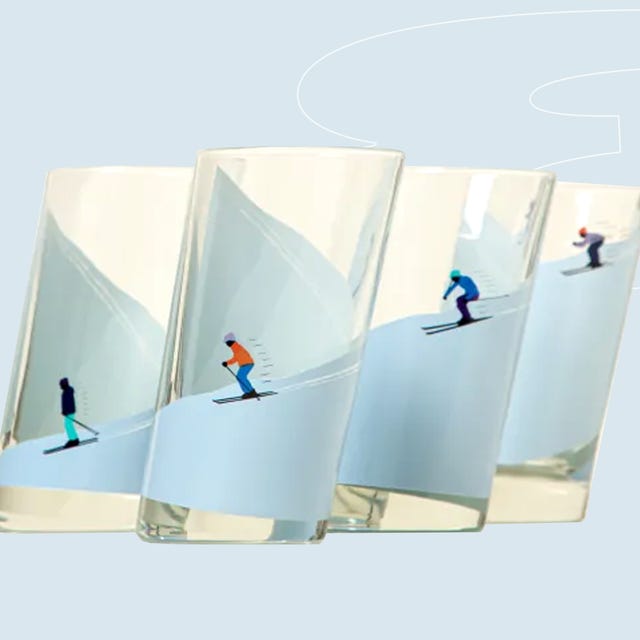 Skiing is not just a sport. It's not just a winter activity. It is a full-blown lifestyle, and if you know any hardcore skiers in your life, you know exactly what we are talking about. Like surfers, or my middle school friend group, being a skier involves an entire new vocabulary and way of life.
So, if you're looking for a gift for the ski bum in your life, you should know a little about the culture. Allow us. One, function and performance is key. If you are shopping for a hardcore athlete, know that how stuff performs in the snow, on the mountain, and over time is going to trump aesthetics as far as gear goes. This also means that a lot of the gear is very expensive. Which is great for you—or not—if you really want to splurge on them. But you can feel good about it, because something a little more indulgent like a gear upgrade is a present that will go to use immediately.
There's also apres-ski culture, which is different. Aesthetics absolutely matter here. It involves apres, which means drinking on the mountain (and no, not like a specific bar, don't make that mistake), which involves wearing mostly your ski clothes, but in like a cool way. Changing into a cozy hoodie and snow boots instead of ski boots is fine, and definitely warmer. And it also means that even when they aren't on the mountain and it isn't actually ski season, they always have freshies (untouched, first-run-of-the-day snow) on the brain. There are even some cool home decor and fun gifts that'll remind them of their love for the mountain. Here are our favorites that'll make your ski bum feel seen.
Advertisement – Continue Reading Below
Rechargeable Hand Warmers
Hand warmers are good, and rechargeable ones are even better.
IMO, listening to music while skiing is an absolute hazard but people love it. If that's for you, do it with AirPods Pro that won't die halfway through the day.
City Sweat Pullover Hoodie
Also good for changing into: an easy, warm, stretchy hoodie.
Because fun glasses are better than boring glasses.
Helmet Drop-in Headphones
These helmet headphones are a favorite for skiers probably because they are actually made for skiers. The big buttons are easy to press with mittened hands and fit into the ear inserts in helmets.
Also good: a good helmet to put those headphones in. Get this for the newer skier who has been renting helmets. Change their life.
Swen Swensøn SKIBAKKEN Art Print
This gift is especially good for those who aren't on the mountain at the moment but won't stop talking about getting back. Let them reminisce in peace.
For those who rip, a GoPro for them to document it. Also recommended for those who backcountry ski.
O Frame 2.0 Pro M Goggles
You can't go wrong with an Oakley gift for any outdoor athlete, and they'll love a pair of goggles that are actually protective.
There's no such thing as a bad puzzle gift, especially when skies are involved.
The thing about loving an outdoor sport is that they have to be ready for outdoor conditions. This Patagonia puffer is thin but impossibly warm and is an essential for all future ski trips.
Skin care is always important, especially on the slopes. Dr. Barbara Sturm's Ski Cream was made to keep you hydrated and fresh, even after a day of hard weather.
Aspen Style by Aerin Lauder hardcover book
For those who love the apres-ski culture, get them a stylish coffee table book, of course.
Smartwool's super-thin beanie is what they actually will want to wear under a helmet. It won't make the helmet feel hella tight.
Feu de Bois – Ski House Classic Candle
Bring the scent of the slopes to their home with a fancy candle.
Real skiers know that you have to hit the freshies before they get tracked out, and that requires getting to the mountain early. Which, in fact, means being caffeinated with a warm beverage in hand.
If you didn't know, now you know: ski socks don't suck anymore. They do not have to be thick and scratchy. They can be high and thin and made to keep your toes warm.
Real skiers will tell you that mittens are where it's at. They will actually keep your hands warm, and ain't no mittens that'll keep them warm like Hestra leather ones.
Multifunctional Headwear and Face Mask
Buff is such a good gift because it is made to be able to do anything. They can wear it around their necks, pull it up over their mouths, or wear as a hat.
Ski Strap and Pole Carrier
Carrying skis is an absolute pain in the ass, no matter how long you've been doing it or not. Don't have an ego. Get them a strap.
Helly Hansen ski jackets are an investment piece and they are absolutely worth the money for the serious skier.
Nothing like the sore muscles that follow a long day of skiing. This mini Theragun is small enough to pack right in their bag for instant relief.
The best part about skiing is taking off ski boots and I won't hear otherwise. These fur-lined, waterproof Uggs are the best winter boots on the planet and an absolute dream to change into after a long day.
KOALA 2.0 Super-Grip Smartphone Harness
This phone harness is good for skiers and clumsies alike. It grips to your phone and connects to your jacket pocket (or wherever you want it) so you don't drop your phone off a lift. Or into a subway track.
All-Purpose Performance Calf Sock 3-Pack
Skiing is weird because it's cold (probably) but you are probably also sweating. A pack of comfy socks to change into after the day is done is a gift that keeps on giving.
This is the apres-ski vibe we are talking about. Soft, durable, warm slippers. Preferably by a fire with an IPA, thank yah.
Pretty much anything from Arc'teryx is going to be good for anything outdoors, but these snow pants are virtually indestructible.
Great for anyone who has just copped a pair of skis. This bag is good for flying and for keeping them safe and unscratched in the car.
Epic Pass gives them season access to mountains across the country that participate. This is a great gift for someone who wants to ski more often or needs an excuse to try new mountains. One for them, one for you.
This can be for decor or for using at parties or for both. At apres bars, these four-person skis with four holes for taking a team shot together are one of the main modes of bonding.
This content is created and maintained by a third party, and imported onto this page to help users provide their email addresses. You may be able to find more information about this and similar content at piano.io
Advertisement – Continue Reading Below