25 Best iPad Accessories 2022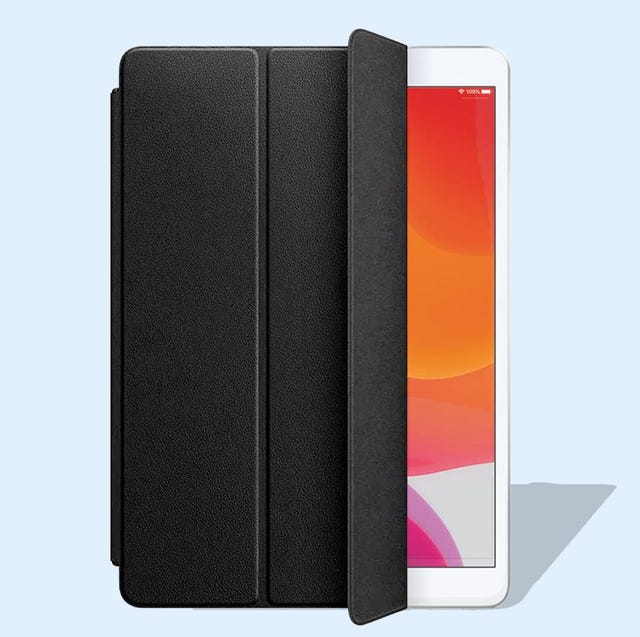 Courtesy
I couldn't understand why people went above and beyond to splurge on the iPad until I got one myself and had the greatest epiphany of my tech-owning life—it's never just an iPad: It's a makeshift, air-light laptop when I pair it with a keyboard and a multi-faceted case; it's a glossy mobile TV or e-reader when I prop it up just right with an iPad Stand; and it can almost replace my iPhone when it's connected to wireless earbuds and Wi-Fi. Really, the iPad can do it all—if you have the right accessories for it.
And you don't need to stock up a box-full of them with each one for every corner, surface, or port. One or two can adequately turn you into a WFH (or design-from-home) machine, or finally convince you to return that MacBook for a nice trade-in bonus. Below, we've gathered 25 best iPad accessories to outfit your iPad, whether you're a creative or practical user.
Lastly, because Apple doesn't use the same nifty sequential iPhone naming formula with iPad, it's best to figure out which model of iPad you own first before you buy iPad accessories. Here's a rundown on iPad's newest models and respective screen sizes. (Or, head to Apple to cop the right fit.) To ward off another point of confusion, all these models have USB-C connectors.
The Latest Apple iPad Models
• iPad (9th Generation): 10.2-inch display
• iPad Pro (5th Generation): 12.9-inch display & 11-inch display
• iPad Air (5th Generation): 10.9-inch display
• iPad Mini (6th Generation): 8.3-inch display
Advertisement – Continue Reading Below
For iPad Pencil owner
Carrying Case and Stand for Apple iPad Pencil
Integrated, functional design for easy access
Positive reviews by customers
If you sprung for the iPad Pencil, consider getting Belkin's protective case, which provides separate compartments for all the pieces and parts, plus a stand so you can set it somewhere accessible—like a quill in an ink pot, so to speak.
Best iPad Pro Accessory
6-in-1 USB-C Hub Foldable Stand for iPad Pro
Also works for some models of iPad Air and MacBook
Sturdy, sleek, and portable
This adapter, made for the iPad Pro (all models), gives you versatility, with ports for charging, hooking up keyboards, transferring data, connecting to bigger screens, and listening to audio via a headphone jack. Because you never know where the day will take you.
Most Creative iPad Accessory
Nanodots Screen Protector
One for each iPad model
Creative and protective
To really blur the line between digital and analogue, cover the screen of your iPad with a thin protector that mimics the feeling of paper for your more creative endeavors.
Best iPad Holder
Gooseneck Tablet Holder for iPad
Backed by reviews and ratings
Adjustable and stable
Clamp design can be limiting in terms of placement
Clamp this thing anywhere, anytime to free up your hands or work space. With the iPad locked in, you can mimic a desktop computer setup or a small-screen TV.
Best home iPad Accessory
Tablet Pillow Stand
Affordable
Great for Netflix and chill
When your iPad spends most of its time moonlighting as an eReader or an in-the-bed TV, a holder like this is much homier than the rest.
Best Budget iPad Case
JETech Case for iPad
Affordable and popular on Amazon
Good quality for the price
Basic, limited protection
If you don't plan to go BASE jumping with your iPad, this budget case ought to suit. It surrounds the entire device, and like Apple's cover, folds back into two different heights of stands. Check out all the model sizes here.
Best Keyboard for iPad
K380 Multi-Device Bluetooth Keyboard for iPad
Also compatible with iPhone, Windows, Mac, Chrome OS, Android
Can switch between up to 3 devices
Affordable
Some situations call for a keyboard. For instance, when typing ungainly letters on the iPad screen makes you want to pull your hair out. Logitech makes an inexpensive Bluetooth keyboard that connects to all kinds of devices, including Apple's. It's easy to carry around and easy to use. Plus, it has an insane two-year battery life.
Best Premium case for iPad
Combo Touch for iPad
Slim, sleek, and sturdy
High-quality and quick set-up
Positive user reviews
Logitech makes a more robust iPad keyboard too, this one with a touchpad, a case and covering, a stand, and, of course, a keyboard. Squint and it's almost a Macbook Air.
Most Protective iPad Case
Rugged Book for Apple iPad
Heavy-duty and durable
Typing like on MacBook
Long-lasting, rechargeable battery
No backlit, no trackpad
Doesn't have every fit
For clumsier, more destructive iPad users, a Zagg Book is in order. It has four layers of damage protection, plus the helpfulness that is a keyboard with two years of battery life.
Best Charging Dock for iPad
Dock5 Multi-Device Charging Station
For the whole Apple family, and your own family
Surprisingly affordable
Big tech guy, huh? Here's your evil-genius-level charging dock, for each and every device you own. There are two USB-C ports, two USB-A ports, and a pad for wireless charging, which ought to free your lair of loose wires and spare wall units.
Best iPad Sleeve
Felt iPad Case
Has an outer storage pocket
Works for all sizes of iPad
More of a sleeve than case
Soften the Apple-ness of your iPad with this merino wool felt case. It's resistant to moisture, so you don't have to worry much on that front, but it's also lightweight and rather stylish in a one-with-the-earth sort of way. That's fitting, as Oakywood ensures one tree will be planted with every purchase.
Best iPad Stand
X Tablet Stand
Can adjust to multiple angles
Lightweight but stable
A bit small for 12.9" iPad Pro
A more permanent solution than propping it up against a stack of books, Moft's stand adheres to the back of the iPad, popping out when you need the lift and lying flat when you don't, much like a kickstand.
Best iPad Accessory for Artists
Sketchboard Pro for iPad
Just like drawing on paper
Must-have for digital artists
The iPad, for all its creative promise, is not the most natural device to draw upon. This crowdfunded project, however, fixes the problem, giving artists a completely flat surface in landscape or portrait orientation, a place to rest their wrists while they sketch, and a natural tilt.
Most No-Brainer iPad Accessory
Apple Pencil (2nd Generation)
Wireless charging available
Magnetically attaches to iPad
Registers tilts and pressure
Not compatible with iPad
A bit overpriced
Speaking of: The Apple Pencil is truly great, making everything from clicking around to drawing to note-taking a hell of a lot easier. Use it with the newer iPad Pros, iPad Air, and iPad Mini.
Best Charging Cable for iPad
Powerline+ III USB-C to USB-C 60W Cable
Up to 60W rapid charging
6-feet long
Not compatible with all iPad models
Never hurts to have a super-fast cable lying around for charging and data transfer. Particularly one with a longevity-promising woven cord. Especially one that's six feet long.
Waterproof and dust-resistant IP67 rating
Can be used as a pet tracker
Precise tracking
Not "real-time" tracking
Relies on connections with other iPhones to track
It'd be a shame to misplace the device you just dumped all your expendable income on.
Most Luxury iPad Accessory
Leather Tech Portfolio
4 pockets and 4 card slots
Shinola craftsmanship
Leather is the upgraded carrying option. Shinola's portfolio has a tablet sleeve, as well as slips for credit cards, a notebook, a passport, writing utensils, and cords. Anything a person with taste and a full calendar might need.
The Apple Pencil Alternative
Crayon Digital Pencil
Compatible with pretty much all iPad models
Sensitive to tilt, palm rejection feat
A less expensive writing utensil than the Pencil, this one is particularly adept at turning you into an artist. If you're already an artist, then it'll help you translate that talent onto a digital surface.
Best Portable Charger for iPad
PowerCore Essential 20000 PD Portable Charger
20000mAh capacity and 20W fast charging
Charges two devices at once
This USB-C Anker charger will juice just about any device you have, iPads included, in as fast and dependable a manner as possible. There is not much more to ask of a charger.
Best Accessory Case
Accessory Organizer w/Bionic
Esquire-endorsed, travel-friendly, environment-friendly
Many compartments and elastic bands
Not specifically designed for iPad
When you've got more cords than pairs of shoes and said cords have revolted against any attempts to be tamed, admit that you have a problem. A dedicated tech organizer could be a solution. Incase's organizer is loaded up with pockets and straps, and made with strong Bionic yarn, which in turn was made with garbage taken out of the oceans.
A heavy-duty iPad Stand
GripTight GorillaPod Stand PRO Tablet
Can be used in car
Flexible legs and angles
For more rigorous iPad usage—out of doors, on trips, through lengthy work days—Joby makes a wiry shape-shifter of a stand.
Best ipad accessory for gamers
DualShock 4 Wireless Controller
Has a speaker and stereo headset jack
Rugged thumb sticks
You won't get the most out of it with iPad
iPads support gaming controllers now. Plan accordingly. (And DualShock 4 only supports iPads with iPadOS 13.)
Best Apple Earbuds
AirPods Pro
Customizable tips
Water-resistant
Adaptive EQ
Requires lightning cable to charge
These AirPods Pro come with a wireless charging case, not to mention noise cancellation and a snugger fit than the original model. If you don't have a pair of earbuds that you love, and you really love Apple, then invest in these.
Best Headphones for iPad
AirPods Max
Supreme sound quality with sleek look
Memory foam ear cushion for snug fit
Dynamic head tracking
Who the hell needs a $500 headphones? Um… You? Who probably has never heard audio so clear and crisp? Because the tried-and-tested-by-Esquire AirPods Max is worth that penny. It's got spatial high-fidelity sound to match the price, and over-ear snug fit to boot. In a world of "4k" tech, AirPods Max has "8k"—completely immersive, utterly satisfying.
Most useful iPad accessory
Magic Trackpad
Pressure sensitivity
Wireless and rechargable
Got brawny pianist hands? Relatable. That calls for a roomier solution, provided by Apple's own Magic Trackpad. It lends a much more seamless alternative than Apple's Magic Mouse (albeit more expensive).
So… Which iPad Model Do I Own?
We don't know, man. There're about 30 iPad models so far since Apple debuted it. And god forbid Apple name them like "iPad 5" or "iPad Pro X", right? Anyways, if you want to identify the specific model of your iPad, here's a quick hack.
Go to the back of your iPad and head to the bottom. There, you'll find a model number that starts with the letter "A".
Head to this page from Apple and look for the same number sequence.
Eureka!
And don't worry, your iPad accessories usually specify what models or size of iPad they're compatible with. Just pay really close attention to them.
Get Unlimited Access to Esquire's Gear Coverage
This content is created and maintained by a third party, and imported onto this page to help users provide their email addresses. You may be able to find more information about this and similar content at piano.io
Advertisement – Continue Reading Below