15 Best Small Desks 2022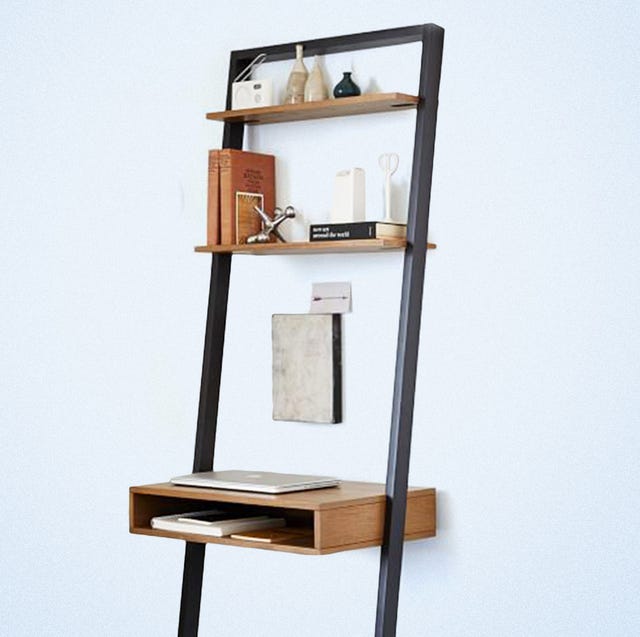 Courtesy
So many things are a luxury these days. Time—to think, to breathe. Energy to do literally anything, including your job. Money, creativity, support. And then space, that physical area you set aside for yourself to live, to work, to create. Because doing all that stuff on your bed ain't it. But for some of us, specifically the tiny house and cramped apartment dwellers of the world, a standard desk just isn't going to work. If it fits at all, it's taking up the scant free space in the floor plan. But working from home is that much harder without one.
So here are 15 small desks that get creative with space usage—hanging from walls, gripping to windows, disappearing when the day is done. Get a feel for the square footage you do have, and then choose one that'll not only work, but make your work feel a little less taxing. And finally, a word for the wise: Measure, do not eyeball. Never eyeball. Your eyeball is, unless highly trained in the art of guess-measuring, wrong.
Advertisement – Continue Reading Below
Black Steel & Wood Side Table
For those who prefer settling in on the couch, or even the recliner, for eight hours of work (oh, who are we kidding, eleven hours), this table slides under your seat of choice and provides you with a hard surface to work from—better than a lap.
Ladder Shelf Desk
This West Elm design will hog up vertical space, but it won't obstruct the horizontal plane. Clean lines and shelves at just the right heights make it stand out.
Stairway Black 72.5″ Desk
Same idea, but at some differing angles, CB2's take on the style disappears to the human eye. Swear!
LILLÅSEN Bamboo Desk
If, due to certain world-changing circumstances, your small desk will be here for a good time but not a long time, then the affordable—but temporary—nature of this Ikea desk is ideal. This model is small and light, hugging the wall while giving your knees just enough clearance.
31.5″ Small Folding Desk
After your hours are logged on this small-surface desk, you can fold in the legs and fold down the desktop so it juts just three inches from the wall.
Lap Desk With Multifunctional Slots
This design marks quite the upgrade from the lap desk your mom bought you for your freshman year dorm. There's a cushioned bar for wrist support, and slots to hold all your screens.
Jaswig Nomad Standing Desk
Instead of the wardrobe that has become your makeshift standing desk, Fully's smallest workstation is thoughtfully engineered for productivity and breezily adjustable—and actually intended to be a standing desk.
Murray Wall-Mounted Desk
You may get "10th grade locker" vibes with this set up. Don't think about it that hard. Just admire the space it doesn't take up on the ground, and the way it packs up into itself when it's not in use.
Mission Modular System Collection, Popup Desk
Another fold-down desk, this one, constructed from Manchurian ash, looks as rustic as a farmhouse at dawn, but hides such modern features as cord catchalls in the back.
Portable Window Standing Desk
If the outside world is more of an inspiration than a distraction, then suction this desk to the window. It isn't incredibly spacious, but you really cannot beat the view.
31.5″ Rectangular Portable Folding Table
A very basic, very practical folding table that comes in four neutral finishes and a handy shelf—it's nothing fancy but all useful.
Foldable Laptop Desk
The most portable of the lot, this lap desk has legs that can be extended and retracted, and a tilt angle you can adjust. In terms of small but essential features, look to the laptop stop and the handle. 
Small Space Pull Out Console Desk
The key to items that work in small spaces is making sure things are not only functional but multipurpose. This pull-out desk can also work as a console when you're not at your laptop—which you can stash on the lower shelf until you need it. 
Mid-Century Mini Secretary
A secretary desk allows you to fold up and hide away the mess of the workday once dinnertime rolls around. What's new is the ecologically sound wood it is made from. What's vintage is its' mid-century angles.
Rail Desk
Beautifully minimalist, it's all clean lines and thoughts with this dark-stained oak hanging desk.
Get Unlimited Access to Esquire's Lifestyle Coverage
This content is created and maintained by a third party, and imported onto this page to help users provide their email addresses. You may be able to find more information about this and similar content at piano.io
Advertisement – Continue Reading Below